About David Rosenmann-Taub
David Rosenmann-Taub was born in Santiago de Chile in 1927. From his earliest childhood, he displayed rare musical gifts. His mother, a consummate pianist, gave him his first lessons when he was not yet two. By the age of nine, having already acquired a considerable knowledge of music, Rosenmann-Taub started giving piano lessons. He continued his own pianistic education with Roberto Duncker, and took lessons in rhythm and music theory from Andrée Haas (a student of Émile Jaques-Dalcroze), in harmony from Samuel Negrete, and in musical methodology from Carlos Isamitt. His teacher in composition, counterpoint, and fugue was the great Chilean composer Pedro Humberto Allende. Duncker urged him to devote himself full-time to piano, Allende to composing. But Rosenmann-Taub had already shown extraordinary abilities as a poet, and was committed to poetry as well as music: both were natural and indispensable to him.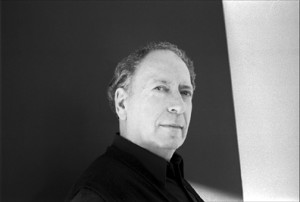 He has since come to be recognized as a major poet – Armando Uribe Arce, the recent winner of Chile's Premio Nacional, called him "the most important living poet of the Spanish language." Encouraged by Claudio Arrau, Rosenmann-Taub began recording his own works in the 1950s, though it was only in the 1990s that he was able to commit a sizeable portion of his work to tape. To date, over a hundred hours of his playing have been archived by the Corda Foundation. The dissemination of his music began in April, 2006 with the release of En un lugar de la Sangre, a multimedia composition consisting of a book of poems, two compact discs of music and poetry, and a DVD video of the composer playing selections of the music. To view a sample from this DVD, please see the video portion of the recordings page.
The themes of Rosenmann-Taub's music range from the intimate to the cosmic. Tonality and atonality are freely intermixed, as dictated by the meaning of the composition, and his technical virtuosity serves to communicate this meaning with exactitude, however intricate the piece. Multitrack production allows him to record compositions for as many as six pianos; recently, he has also begun composing for a multiplicity of instruments and playing all the parts himself on a synthesizer. These layered works, with their stunning resonance and complexity, are a singular accomplishment.
This website is dedicated to David Rosenmann-Taub's musical activity, and presents biographical details, a discography, and a selection of previously unavailable musical excerpts and interviews.